It's about the beach, history, glass floats in the sand, music performances, making your own dishes and even your own candy – it's not just about the holidays and New Year's Eve celebrations. Lincoln City lights up for the season in more ways than just the Christmas lights strung along the buildings.


With so much to see and do on the Oregon Coast, consider Oregon Coast lodging at a member inn of the Oregon Bed and Breakfast Guild in and near Lincoln City. From a quiet romantic getaway to a fun family retreat, the inns in and near Lincoln City await.
Through Memorial Day 2011. Finders Keepers on the Beach: Glass Floats on the Beach. Weather permitting, every day colorful hand-blown glass floats are placed on the beach. If you find a float, bring it to the Lincoln City Visitors Center at 540 NE Hwy 101 to receive your certificate of authenticity and a biography of the artist who made the float. 800-452-2151 or 541-996-1274 or www.oregoncoast.org
Through December 11. "Kennewick Man on Trial" traveling exhibit at the North Lincoln County Historical Museum. The exhibit uses text, photos, maps, and historic illustrations, to explore the science as well as the ethical and legal ramifications of the 1996 discovery of the "Kennewick Man" remains. Free admission. Lincoln City, Oregon. 541-996-6698.
December 11. Hands-on Cookies & Candies cooking class. Cost: $50. 1 – 4 p.m. Culinary Center. Lincoln City, Oregon. 541-557-1125, 800-452-2151 or www.oregoncoast.org/culinary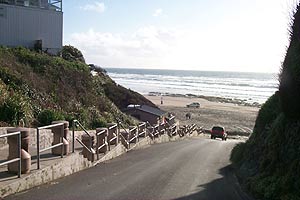 December 11. Birding Field trip, hosted by Lincoln City Audubon at the Nestucca Wildlife Refuge. Walk will include a variety of habitats such as pastures, grasslands, and tidal marsh. Binoculars and guide books will be provided. 9 – 11 a.m. 541-992-0440. Near Pacific City, just north of Lincoln City.
Chocolate and Candy Making 101. 11 a.m. – 2 p.m. Litehouse Chocolates. Lincoln City, Oregon. 541-614-0660.
December 19. Gift of Music at Salishan Lodge. Gleneden Beach, Oregon (just south of Lincoln City). 541-764-2371.
December 25 - January 1. Glass Sand Dollars, Glass Crabs on Beach. 100 hand-crafted glass sand dollars and glass crabs along with 100 glass floats will await discovery along the 7.5 miles of Lincoln City beaches, weather and ocean permitting. 541-996-1274, 800-452-2151.
December 26 - January 1. Oregon Coast Whale Watch Week. 541-765-3407 or http://www.whalespokenhere.org